Are you a Harry Potter fan? Looking for inspiration for holiday activities? Well, embarking on a magical journey through the enchanting landscapes of Edinburgh and Alnwick is akin to stepping into the pages of the beloved Harry Potter series.
No matter which side of the border you are joining us from we have at least one Harry Potter day trip for you to experience.Edinburgh, with its medieval charm and winding cobblestone streets, lays claim to being the birthplace of J.K. Rowling's literary masterpiece. Visitors can traverse the cobbled roads of the Old Town, where hidden gems like The Elephant House café and Spoon Café Bistro proudly claim to be spots where Rowling penned her early works.
Meanwhile, a visit to Alnwick Castle, nestled in the charming English countryside, allows fans to immerse themselves in the iconic settings of Hogwarts School of Witchcraft and Wizardry. The majestic castle served as the backdrop for broomstick lessons on the very grounds where Harry took to the skies in the first film. As one explores these destinations, the line between fiction and reality blurs, making for an unforgettable adventure filled with the magic that has captivated hearts worldwide.
Harry Potter Edinburgh
The old town is a must go to for all muggles who are fans of Harry Potter. Wander through the cobbled streets and explore the, often creepy, closes and wynds that run from the Royal Mile. Visit the Elephant House cafe on George 1V Bridge where JK would sit over a coffee drafting the earlier stories of Harry, Ron and Hermione. See JK's hand prints cast in front of the City Chambers, visit Grey Friars kirkyard and look for Tom Riddle's grave and find some other inspired names like Robert Potter and William McGonagall, inspiration for Godric's hollow perhaps?
You can see the 13th century Lewis chess pieces at the National Museum of Scotland, Wizard's chess anyone? Admire the beauty of the Balmoral Hotel, where in suite 552, JK wrote the whole of the final Harry Potter book, 'The Deathly Hallows'. You can fight to escape the Dark Lord at the Dept of Magic escape rooms on Blair street and celebrate your victory in the Magic Potions Tavern.
Enjoy an interactive HP afternoon tea at The Cauldron on Frederick Street. Delight at Victoria Street (Diagon Alley) and it's beautiful colourful buildings, treat yourself to a chocolate frog from the Enchanted Galaxy or immerse yourself in all the amazing HP merch in Museum Context on Cockburn Street or in The Great Wizard .
You could even enjoy one of Edinburgh's ghost tours to add some 'spooky' to your day …
A fabulous day out for witches and wizards of all houses and ages
Getting there
– Easily Accessible via Car from Coldstream Holiday Park, navigate to Edinburgh City Centre or there are numerous park and ride options (1 hour). You can also take the train from either
Berwick Upon Tweed
or
Tweedbank
(1-2 hours).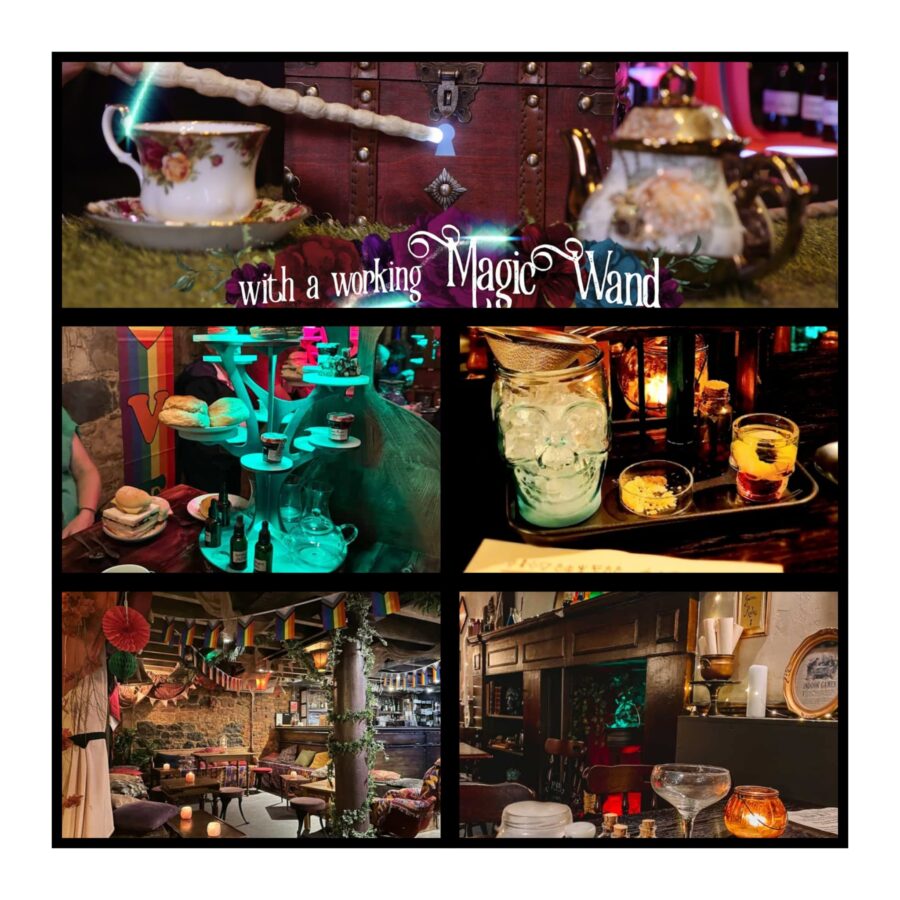 Harry Potter Anwick
Did you know that we are only about 30 miles away from 'Hogwarts'?! Alnwick Castle was used as a filming location for the Philosopher's Stone and the Chamber of Secrets.  Walk in the footsteps of Harry, Ron, Hermione and their friends, see if you can recognise their route to class or to Hagrid's hut, or where Ron crashed his dad's flying car. Get the chance to fly a broomstick on the outer bailey where Harry learned to play Quidditch. You can visit the amazing Alnwick Garden, home of the 'Poison Garden' where you wouldn't be surprised to see Professor Sprout picking plants for her next potion. There are around 100 species of dangerous, toxic and harmful plants. They even have a mandrake!
Getting there – Most accessible by Car (30 – 45 mins) Navigate to Alnwick Castle.

Other Silver Screen Moments
Edinburgh's captivating blend of history, architecture, and ambiance has beckoned filmmakers from around the world, turning the city into a cinematic canvas for a diverse array of stories. One notable film that embraced Edinburgh's unique atmosphere is "Trainspotting" (1996), directed by Danny Boyle, which vividly captured the city's gritty and vibrant energy. The cobbled streets and Georgian facades also provided a stunning backdrop for the adaptation of "The Da Vinci Code" (2006), bringing the enigmatic story to life against the city's iconic landmarks. Moreover, Edinburgh's timelessness has been harnessed in period dramas like "Chariots of Fire" (1981), where its historic streets lent authenticity to the film's portrayal of the 1924 Olympics. From tales of intrigue to historical narratives, Edinburgh's architectural diversity and emotive essence have woven seamlessly into the tapestry of numerous cinematic masterpieces, making it a destination not just for tourists, but for storytellers as well.
Beyond its prominent role as Hogwarts in the Harry Potter film series, Alnwick Castle has also served as a captivating backdrop for various other cinematic ventures. Its stately walls and picturesque surroundings have attracted filmmakers seeking to infuse their projects with an air of grandeur and history. Notably, the castle's elegant architecture was featured in the 1991 adaptation of "Robin Hood: Prince of Thieves," starring Kevin Costner, adding a medieval authenticity to the Sherwood Forest setting. Additionally, Alnwick Castle played a pivotal role in the 2014 film "Transformers: The Last Knight," where its imposing facade lent itself to scenes of epic proportions. The castle's versatile allure has undoubtedly made it a coveted location for filmmakers, showcasing its ability to transport audiences into realms both fantastical and historic, beyond the realms of wizardry and into the realm of cinema itself.